In prepping for our Fairview Underpass event on October 25th, I took these photos of current conditions beneath I-94.
There are actually three bridges overhead in this area: I-94, a railroad bridge, and St. Anthony Ave. Local amenities to the south include the Merriam Park Library, the Blue Door restaurant, and a lively collection of vintage and antique shops at Fairview & Selby. To the north, the Underpass connects travelers to the Green Line LRT, Episcopal Homes' expanding senior housing complex, Iris and Dickerman Park, the Midway YMCA, Goodwill, and a huge array of other local offices and businesses on and near University Avenue.
These photos were taken in July, and Fairview has since then received an emergency mill and overlay as part of the Mayor's effort to repair half of the "terrible 20" worst streets in St. Paul. But we hear over and over again from neighbors: smooth pavement is not enough here. What's next? Will the city be willing to make any additional improvements in the near future now that the lanes for auto traffic are neat and tidy? Our frequent collaborator Anne White has been vocalizing these concerns in her writing on streets.mn.
In our early conversations with a working group of Union Park and Hamline Midway neighbors, the underpass immediately rose to the top of concerns. We heard complaints that excess water (from a natural stream, rising groundwater, and/or runoff, we're not sure which) pools and creates icy conditions in the winter, causing accidents and undermining the pavement's stability. In other seasons an intermittent nasty, sewer-like odor comes from either the standing water or the gaping drains along the curb (or from both). The steep slope encourages cars to speed, while poor lighting under the bridge makes it iffy whether those cars will be able to see a bicycle in time to react accordingly. Pedestrians and bikes that choose the sidewalk are cut off via raised walkways on either side sectioned off by long stretches of aging, rusty chain link fence, and ADA compliant ramps to get onto those sidewalks are inconsistent. Imposing rows of columns and ugly metal barricades add to the intimidating, freeway-like atmosphere. One passerby told us that the crumbling concrete on the edges and center seams of the bridge structure itself made him unwilling to walk down here with his daughter, for fear of a piece falling on her head. When you're actually underneath the bridge, the sound of the freeway is very dull and really doesn't impair conversation; it's the echoes of traffic on Fairview driving under the bridge that make the area so loud.
Yet I was also struck by the lushness of greenery in the surrounding area (surely due in part to the abundance of water). Determined wildflowers pop up through cracks in the median, and walking up one of the three sets of concrete stairs has an air of fantasy to it, as if you're climbing into Never Never Land or the Secret Garden. Graffiti and street art speckle the area, much of it whimsical or at least benevolent. The road here is wide enough to consider the possibility of bike lanes. The neighborhoods above seem quiet, peaceful and friendly, filled with mostly single family homes and small apartment buildings. Transforming this space in both the short and long term doesn't seem entirely out of the realm of possibility, right?
So, we began to look at the Underpass area as if it was a blank canvas. It immediately appealed to me as a unique and challenging space to hold a neighborhood event, and our ambitious working group was excited to make it happen, so the Underpass Party was born.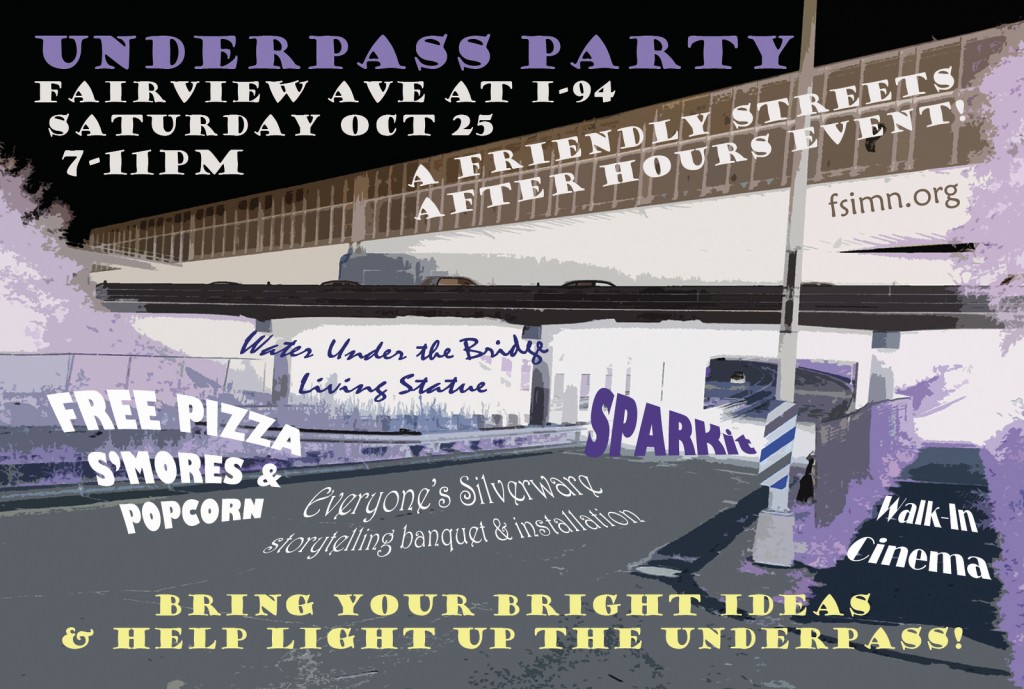 Tired of avoiding the Fairview Underpass on your bike, and wishing the walk under I-94 felt more safe and pleasant? Bring your BRIGHT ideas and help us light up the underpass with games, videos, stories, and color for one night to confront the challenges and imagine the possibilities in this mishmash of concrete, chain link and wild greenery beneath the freeway. Free and open to the public. Fairview Avenue will be closed to automobile traffic between Iglehart and Shields beginning at 5pm, ending at midnight.
Activities:
Dream big with us to imagine creative uses of the space underneath the freeway! Try out a temporary bike lane demonstration, and share your unique insight, ideas, and concerns about how to make Fairview more friendly at the Friendly Streets Gallery of Images and Map Brainstorming Station.
Bring a blanket and lean back with some popcorn at the Walk-In Cinema, featuring community videos of local music, dance, arts and garden projects on and near the Green Line, curated by Friendly Streets Artist Organizer Robyn Hendrix.
Whisper secret wishes and big dreams to the Water Under the Bridge Living Statue, performed by Mira Kehoe.
Chat with a friend or stranger at the "Everyone's Silverware" banquet table to take part in the transformation of a curated collection of hand-me-down silverware into a large, story-infused installation. Presented by Adj Marshall, with special banquet lighting by Heather Cole. Final artwork unveiling at approximately 10:00pm.
Free pizza, popcorn, and s'mores around the campfire!
Play games, hula hoop, chase bubbles, and make a mask with the SPARKit trailer.
Make your own birdhouse to take home with Birdhouse Rainbow.
The Fairview Underpass: Current Conditions