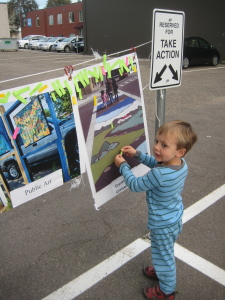 The City of Saint Paul is beginning engagement and planning for several sections of the Grand Round, including Friendly Streets project areas along Pelham Boulevard and the Raymond Station Area. As part of the 8-80 Initiative, this project will increase activity and vitality on our streets and public spaces by continuing the vision set forth for the Saint Paul Grand Round over 125 years ago by completing a bicycle and pedestrian loop that encircles the city.
Two Friendly Streets working group members, Drew Ross from Desnoyer Park and Brian Longley from Saint Anthony Park, have been appointed to the Community Advisory Committee, and the FSI Reports on our Pelham Boulevard and Raymond Station "Missing Link" Area projects are being incorporated into the design process.
Photo by Darius Gray, taken at the September 23rd 2014 Friendly Streets Initiative Raymond Station "Missing Link" Area Block Party at Avalon School.
The following Friendly Streets Initiative reports have been provided to planners, designers and engineers from Community Design Group and SEH who are working on Grand Round planning:
DPIA and FSI Collaboration Report
FSI Pelham Boulevard Parking Study for DPIA
FSI DPIA SAPCC Raymond Station Missing Link Report
Visit saintpaulgrandround.org to see full list of events get involved in next steps. There will be a Pop-Up Workshop at the St. Anthony Park Arts Festival on Saturday, June 6th from 10 AM – 5 PM, at 2245 Como Avenue, St. Paul.
Grand Round Design Workshop Schedule
Project Presentation and Design Exercise
— Monday, June 22
|
6–8 PM
Drop in Anytime for Project Update
— Tuesday, June 23
|
6–8 PM
Drop in Anytime for Project Update
–
Wednesday, June 24
|
4–7 PM
Presentation of Project Workshop Findings
— Thursday, June 25
|
6–8 PM
 Design Workshop location: Bandana Square, Best Western Conference Facility
1010 Bandana Boulevard West, St. Paul, MN 55108
Update:
Pop-Up in the Park – Pelham
Monday, June 29 | 5–7 PM
Pelham Blvd and River Road / Trail
This event is weather dependent, and may be cancelled without notice.
To see more information about Friendly Streets' work in these areas, visit our Pelham Boulevard and Raymond Station "Missing Link" pages. We look forward to doing more detailed engagement and demonstration work related to the bridge later this year as part of our Better Bridges project, jumping off of what comes out of the CDG/SEH design workshop.
Suggested relevant articles:
St. Paul bike plan begins with downtown "loop" and Grand Round – The Line, 6/2/2015
St. Paul council OKs citywide bicycling infrastructure overhaul – Pioneer Press 3/19/2015
Saint Paul's 8-80 Vitality Fund Can Help Saint Paul Work for Everyone – Streets.mn 10/7/2014
See also the City of Saint Paul Grand Round Project page.
Pelham Blvd & "Missing Link" of Saint Paul Grand Round Set for 8-80 Transformation