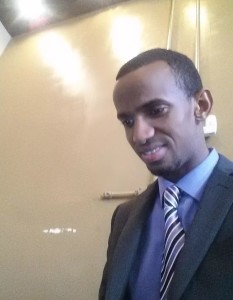 Isaak Rooble, Community Organizer
Isaak Rooble is a well-known community outreach specialist and educator. He is specialized working with Somali families and community members. Throughout his career, Mr. Rooble provided both Somali language, cultural and content consulting to organizations/agencies that targeted Somali Americans here in Minnesota.
He worked at the office of MN Secretary of State as Outreach Coordinator for the Promote The Vote Program. Prior to his role at the state level job, Mr. Rooble worked with various organizations including Mayo Clinic, Rochester Public Schools, 2nd Language Testing, Somali Resources Aid Associates (SORAA),  and Lionbridge Language Services.
He is currently a part-time research interview/assistant for a partnership research programs of HealthPartners, Hennepin County Medical Center, East African Health Project and Wellshare International for the Somali Cardiac Metabolic Research.
Mr. Rooble also works with University of Minnesota Center of Urban & Regional Affairs, Union Park District Council, and Lexington-Hamline Community Council as Research Interviewer for the East African Global Market project.
Mr. Rooble is currently a volunteering member of Minnesota Department of Health E-HealthRoadMap Social Services working group.  He previously volunteered with United Way of Olmsted County as a member of the Community Basic Needs Assessment Team. He also served as Chair of the Mayo Clinic Somali Employee Resource Group. In addition, he served as a volunteering Director of Somali Resources Aid Associates (SORAA-MN) where he brought together more than 200 Somali nonprofit organizations, businesses, students, and professionals.