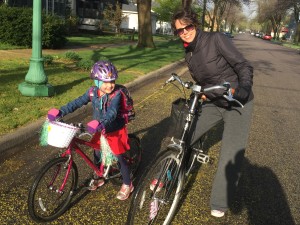 Jessica Treat (and daughter Odilia), Executive Director of Transit for Livable Communities
Jessica Treat is the Executive Director of Transit for Livable Communities (TLC) where she began in January 2016. TLC will serve as the parent organization and fiscal sponsor for the Friendly Streets Initiative. Prior to joining TLC she served as the founding Executive Director of St. Paul Smart Trips for eight years. Under her leadership, Smart Trips developed a local and national reputation for their innovative approach to travel demand management (TDM). As an established leader in transportation advocacy in the Twin Cities, she values a collaborative approach and has significant experience with transportation options and community engagement.
Jessica is one of three co-founders of St. Paul Women on Bikes. The inspiration to build that coalition came directly from witnessing the great work of the Friendly Streets Initiative to build broad support for the Charles Avenue Bike Boulevard which ultimately garnered the political will to implement the project.
Jessica earned her master's degree in Urban and Regional Planning from the University of North Carolina at Chapel Hill and her B.S.E. in Civil Engineering from Arizona State University. She lives car-free with her husband and daughter in the Hamline-Midway neighborhood of Saint Paul and values the everyday adventures and personal interactions that car-free commuting provides.