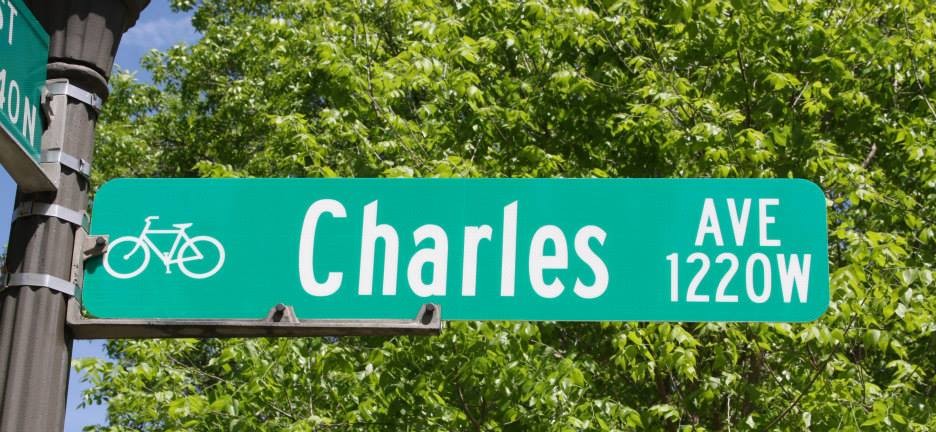 The Friendly Streets Initiative emerged out of work beginning in 2009 to engage neighbors in the visioning and design process for the future Charles Avenue Bike Boulevard. Concerns and interests of a few members of the Hamline Midway Coalition's transportation committee grew into a partnership between HMC and the Frogtown Neighborhood Association that brought the planning process directly to residents via a series of five block parties on Charles attended by over 700 residents overall.
A Gallery of Images introduced residents to various techniques available to make streets more "friendly" (i.e. attractive, safe, and accessible for multiple modes and all users), including placemaking, public art, and traffic calming techniques. Post-it votes on the images allowed a fun, visible way for everyone to express opinions in addition to a more formal paper survey. A partnership with Springboard for the Arts contributed additional art activities that allowed neighbors to paint, sing, draw, build, play, and dream together about the future of their street. Input gathered at these block parties turned into a report that helped guide the design of Charles and led to increased engagement at more formal public meetings on the project. The first phase of the Charles Bikeway was constructed in 2014, and neighbors continue to pursue funding opportunities to complete the final phase.
Read the Charles Avenue Phase 1 Report.
Don't miss photos from our continuing work on Charles in 2014 with the Frogtown Crew.
Read our FAQ Sheet for Charles Avenue to learn more about construction progress.
See Charles in the media on our press links page and watch our video of neighbors' testimonials voicing support for funding the final phase of construction, taken at the February 2015 Frogtown Forum.
View additional photos on Jon Pavlica's website here and here, and even more photos on flickr!