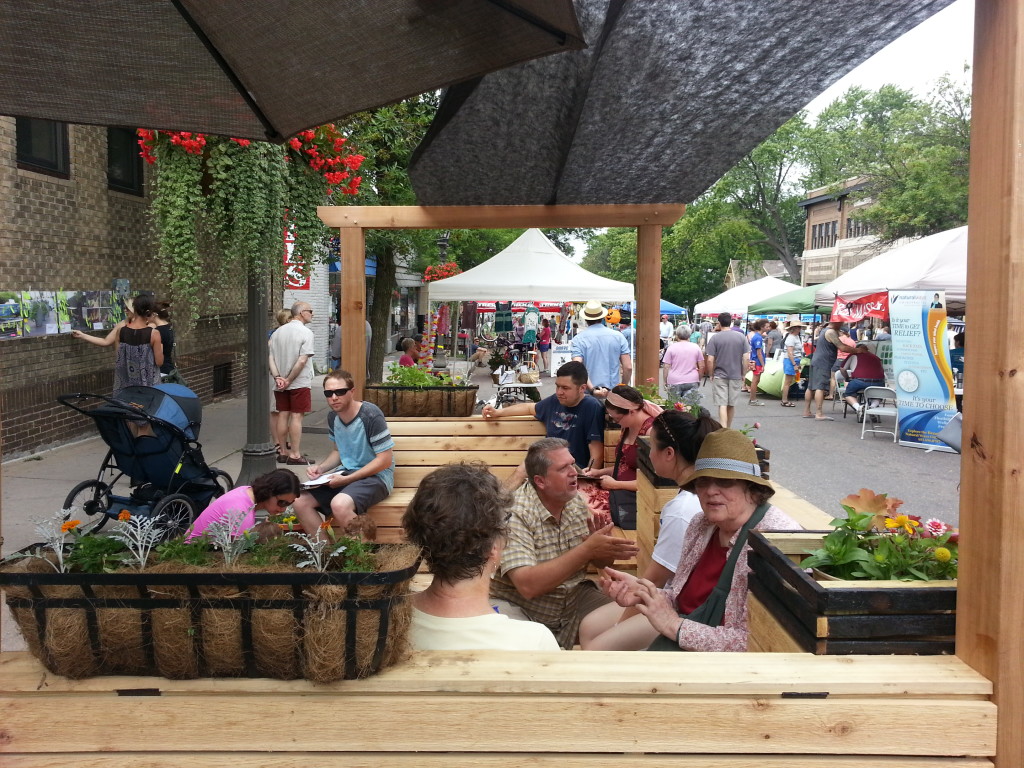 In partnership with the Snelling-Selby Area Business Association and the Union Park District Council, the Friendly Streets Initiative worked on a placemaking project at the intersection of Snelling and Selby Avenues in 2014-2015. With the coming of "The Vintage" Whole Foods and housing development at the corner, maintaining a community feel that is friendly for pedestrians and bicyclists is a top priority. How this can be achieved through placemaking (as well as infrastructure), is the charge. We brought a Friendly Streets "boost" to the business association's annual Bastille Day shopping event on July 12th, 2015. Friendly Streets' gallery of images post-it vote process and surveys hit record numbers for participation, and a report on the results will be available later this year. As a result of the one day parklet demonstration, we were able to bring the parklet back for a three week pilot run August 21st-September 13th in a parking spot outside of Starbucks, thanks to partnership with the Union Park District Council and SweatShop Fitness.
View more photos on our blog!
Related work: check out our 2014 Hague Avenue Block Party and the Snelling Better Bridges project.
At the beginning of July 2014 our working group did a walking tour to take a closer look at the many treasures and artistic hideaways of the Snelling & Selby area. So many great places to discover here!
This project is funded by the Union Park District Council.